As featured on NBC Nightly News
Select bowling centers and schools around the country are participating in the first ever Kids Bowl Free program. This program is designed by bowling centers to give back to the community and provide a safe, secure, and fun way for kids to spend time this summer.
Children whose age does not exceed a limit by a participating bowling center are eligible to register for 2 free games a day, all summer long, courtesy of the participating bowling centers along with the schools and organizations.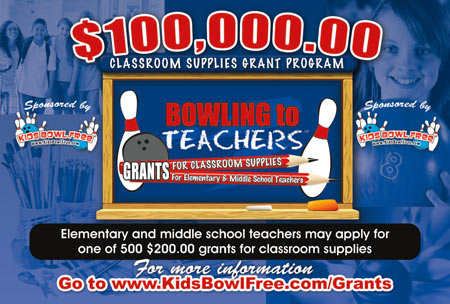 Kids Bowl Free & Participating Centers Sponsor
$100,000 Classroom Supply Grant Program
Kids Bowl Free and participating bowling centers are teaming up to help educators offset their growing out of pocket expenses. Kids Bowl Free has been working closely with teachers, school administrators and bowling centers over the past four summers to help provide a safe, fun activity for children while they are on summer break.
Many teachers have expressed their concern of budget cuts and the inability to have all of the teaching aids they need for their students to have the best learning environment possible. The Bowling To Teachers program is a small step to helping 400 teachers improve their learning experience for their students.
For teachers that would like to apply visit www.BowlingToTeachers.com to complete the short grant application. 80 grants per month will be awarded from March through the end of July 2013.
Click Your State to Get Started!
What people are saying

Anxious to get bowling this summer (thanks to Kids Bowl Free and their family pass), but here is my little man a couple of years ago when we lived in FL. Thanks "Kids Bowl Free" for a great program!

We love Kids Bowl Free. It provides us with a fun family activity at a great price! My daughters love bowling so this is perfect!

My family and I love to bowl! I had my son's 7th birthday party at our local bowling alley. We had a great time and took lots and lots of pictures!